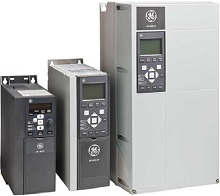 Cost- and performance-conscious facility operators and original equipment manufacturers (OEMs) will appreciate new, full-featured, easy-to-use AC drives from GE Consumer & Industrial: the AF-60 LP(TM) Micro Drive for small motor controls, the AF-600 FP(TM) Fan & Pump Drive for HVAC and Pump applications, and the AF-650 GP(TM) General Purpose Drive for control of mixers and material handling applications.
"Our customers asked for drives with built-in functionality and compact size that are easy to set-up, and meet all relevant global standards," says Paul Bunnell, product manager, GE Consumer & Industrial. "Our AF-6 Series allows customers to immediately save costs by simplifying installation and decreasing the need for add-on equipment."
The following features are built into the AF-6 Series:
Built-in process PID controller optimizes operation;
Built-in Communication Networks for Modbus RTU, Metasys N2 and Apogee FLN P1 for the AF-600 FP(TM) drive;
Built-in logic controller eliminates the need for and cost of many additional Controls;
Built-in Fan & Pump Macros for the AF-600 FP(TM) drive;
Built-in DC Link Reactors ensure very low harmonic disturbance of the power supply;
Built-in Brake Chopper option eliminates separately mounted dynamic brake unit;
Built-in Class A2 RFI eliminates the cost of additional components; o Automatic energy savings delivers better system efficiency;
Auto-tuning optimizes motor performance and reduces set-up time.
Quick Programming Delivered with the wiring diagram and template on the unit's lid, AF-6 Series drives can be set up and running in less than five minutes with GE's Quick Menu. All AF-6 Series drives feature a removable and hot pluggable, illuminated LCD display with a full-function keypad. The keypad's "INFO" key, for instance, provides full-text, context-sensitive information to ease programming and to remove need for printed manuals. Users can set up one drive via hot pluggable feature and then copy settings to other drives, eliminating the need for duplicate programming.
The Quick Menu provides easy access to all the basic settings, such as parameters and values, rotation direction indication, set-up indication, custom user displays, trended charts display speed and torque. The AF-6 Series also features easy-to-use PC software that connects to the drive via a USB lead.
Offering self-protecting features, the AF-6 Series drives can handle from 110 percent to 150 percent current overload for up to one minute.
AF-60 LP(TM) Micro Drive: Built for Small Motor Controls Available up to 10 horsepower, the AF-60 LP(TM) Micro Drive is built for small motor control and variable frequency applications with micro needs. The AF-60 LP(TM) Micro Drive uses robust housing to protect the drive and allows side-by-side mounting with no de-rating. Users can opt for an optional DIN rail mounting kit available up to and including 3HP drives.
AF-600 FP(TM) Fan & Pump Drive: Ideal for HVAC Solutions Optimized for the range of variable torque applications, such as fans, compressors and pumps, the AF-600 FP(TM) Fan & Pump Drive is available up to 1,350 horsepower, yet is small and easy to mount in a control panel. The AF-600 FP(TM) Fan & Pump Drive offers an energy monitoring feature, flow compensation, pump cascade controller, sleep mode, automated resonance monitoring, fan belt monitoring, stairwell pressurization, fire override mode, and full alarm messages and descriptions.
The AF-650 GP(TM) Drive: Built for Constant Torque The AF-650 GP drive, designed for control of mixers and material handling applications, provides 3 vector modes-advanced, sensorless and closed loop. Delivering a solid, aluminum base for mechanical stability and reliability in harsh environments, the AF-650 GP offers advanced brake control and encoder feedback, full alarm messages and descriptions.
The AF-6 Series is CE, UL and cUL compliant.
GE Consumer & Industrial spans the globe as an industry leader in major appliance, lighting and integrated industrial equipment, systems and services. Providing solutions for commercial, industrial and residential use in more than 100 countries, GE Consumer & Industrial uses innovative technologies and "ecomagination," a GE initiative to aggressively bring to market new technologies that help customers and consumers meet pressing environmental challenges, to deliver comfort, convenience and electrical protection and control. General Electric (NYSE: GE) brings imagination to work, selling products under the Monogram®, Profile(TM) GE®, Hotpoint®, SmartWater(TM) Reveal®, Edison(TM) and Energy Smart(TM) consumer brands, and Entellisys(TM) industrial brand. For more information, consumers may visit www.ge.com.